All of the world's best creations aside, a moist chocolate cake on the other. There's possibly no one who can deny falling in love with a rich, decadent chocolate cake. All in all, chocolate cake is not simply a dessert but an emotion for all of us. It tends to fit every happy occasion like that of birthdays, anniversaries., Valentine's day, etc. It also tends to help us cope better during the low days of our lives. Hence, one doesn't need any specific reason to relish chocolate cake. Many of us like to bake a chocolate cake on our own as we figure out the ingredients and recipe. Whereas some others like to order it from their favourite bakery alongwith online cake delivery in Hyderabad. Talking about chocolate cake, we have to mention that there are many delicious kinds, that bakers have come up with. One such kind would be moist chocolate cake with chocolate buttercream frosting. This cake is absolutely irresistible as there are five factors to look forward to including its chocolatey flavour, moisture, rich decadence, perfect crumb texture and lastly, its delightful buttercream frosting. We know you already have started salivating just with the name of this cake, why not go ahead and look into trying to bake this sweet delicacy at home for yourself and for your loved ones.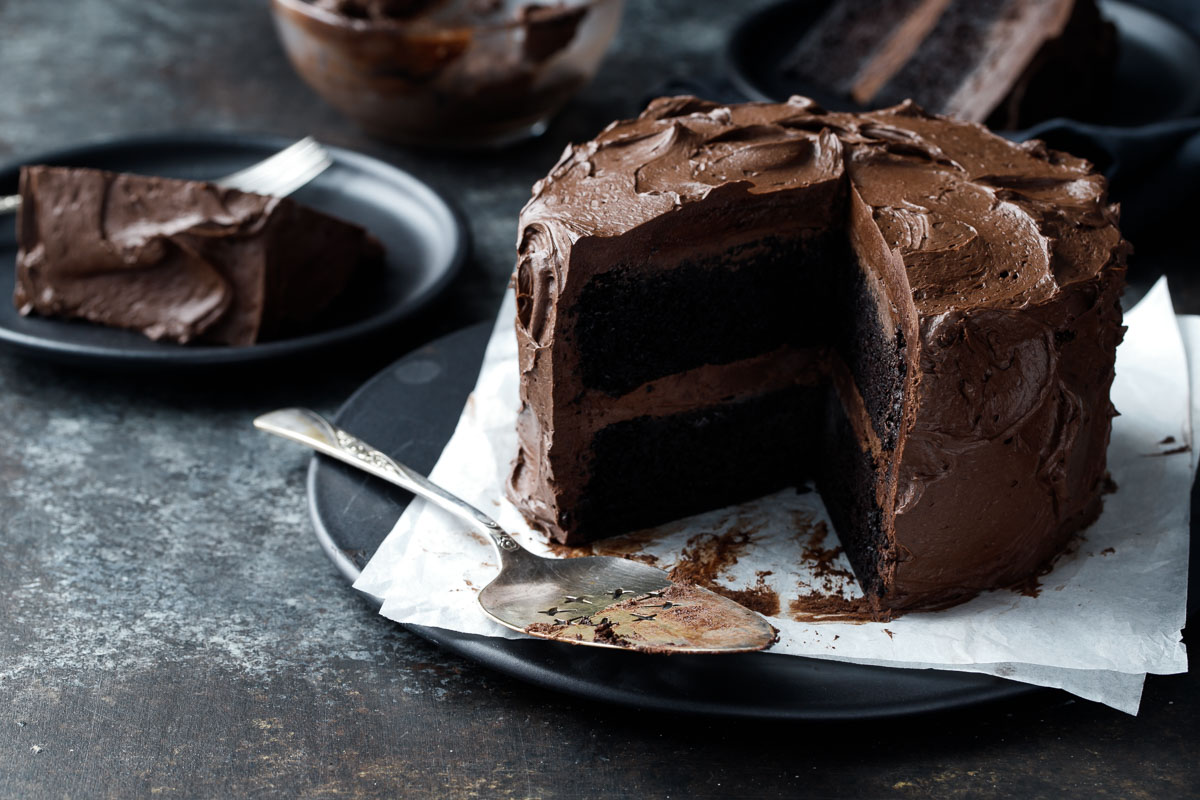 Serves: 16
Total Time: 2 hours
Preparation Time: 30 minutes
Cook Time: 30 minutes
Cool Time: 1 hour
Ingredients
1 1/2 cups granulated sugar
1/2 cup packed light-brown sugar
3/4 cup unsweetened cocoa powder (scoop and level to measure)
1 tsp baking soda
3/4 tsp salt
1 cup boiling water
3/4 cup vegetable oil or canola oil
1/4 cup unsalted butter, melted
2 large eggs
3 large egg yolks
1 Tbsp vanilla extract
2 cups all-purpose flour (spoon and level to measure)
1/2 cup sour cream
1/3 cup milk
Let's Start Baking!
Start by preheating the oven to 350 degrees. Grease two 9-inch round cake pans and line them with parchment paper.
Take a large mixing bowl and whisk granulated sugar, brown sugar, cocoa powder, baking soda and salt together.
Pour some boiling water into it and continuously whisk it to blend well. Let it cool down for about 5 minutes.
Using a mixer attachment, blend the vegetable oil and melted butter on low speed until well combined.
Further, add flour and continue mixing and batter. There lastly add milk and sour cream. Blend all the ingredients together.
Now divide the cake batter into two already prepared pans. Bake for about 29- 35 minutes or until the toothpick comes out clean when pricked.
Allow the cake to rest in the pan for about 5 minutes. Now take it out of the oven and place it on a wire rack. Let it cool down completely.
Now, prepare the chocolate buttercream. Whip butter until it turns pale and fluffy.
Now sift powdered sugar and cocoa powder. Further, add vanilla extract and heavy cream.
Whip all the frosting ingredients together until well combined.
Now, trim the cakes from the edges and add frosting on top of it. Place the second cake layer on top of it and smear it on top and its sides. Store in an airtight container before serving for quite some time.
Your moist chocolate cake with chocolate buttercream is ready to lure you with its delicious taste, texture and appeal.
Notes
Water needs to be properly measured after boiling. Measuring before won't be accurate as the same amount of water would evaporate.
Always store the cake in an airtight container. It surely can even be stored at room temperature but teh shelf life of the cake won't be as long as when we keep it refrigerated.
Baking is a science, hence it is really important to measure all the ingredients properly and then to use them while baking.
Make sure always to check the doneness of the cake before taking it out of the oven. Prick a toothpick or a knife, if any of these comes out clean after having it pricked in the cake surface then your cake is done. If not, then you may have to bake the cake for about a few minutes or so.
Once done with frosting, you can choose to decorate your cake with mini chocolate chips, sprinkles or chopped chocolate. But let the frosting set for a bit before you start topping it off.
One of the most amazing things about this cake is that it can be frozen and relished for upto 3 months. For that, you need to store the cake by wrapping it in plastic wrap. Ensure every layer of the cake is separately wrapped with plastic wrap. Then store it in an airtight container. Thaw the cake overnight in teh refrigerator, then frost and further serve at room temperature.